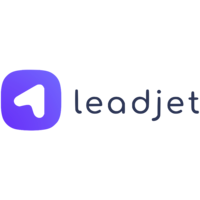 Growth Hacker / Lead Gen Expert
Paris
Full-Time
Start Date: 01 October 2021
About
Leadjet is a Paris-based B2B SaaS start-up, supporting and empowering sales representatives in their daily prospecting and relationship work.
Job Description
🚀 Leadjet
Leadjet was launched a little over a year ago by 2 co-founders from X-HEC (1 engineer/business + 1 finance/business). The product was almost entirely developed by Romain, CTO & Co-Founder. As we received a lot of positive feedback and were able to market the product effectively, Leadjet got sufficient growth and traction to be able to advance without having to raise funds. Since its product launch (Q3 2020), Leadjet serves over 500 fast-growing companies as clients (i.a. OpenClassrooms, Ubble, Batch, ShipUp, or Comet) and partners with major CRM companies such as Salesforce and HubSpot.
The team is currently composed of 9 people (5 tech, 4 marketing) working mostly remotely from several places in France and around the world (Egypt, Germany, Turkey, UK, US, Paris & Lyon).
The team is voluntarily kept small in order to move forward and iterate effectively.
🏗 The product
Leadjet lets sales professionals live in the apps they use daily (first and foremost LinkedIn), while it automatically captures all their relationship activity and stores it in their CRM (Customer Relationship Management) software. With Leadjet, salespeople gain 4x faster sourcing and time savings of up to 60 minutes per day.
Concretely, it takes the form of a Google Chrome extension modifying the LinkedIn interface by adding extra features (synchronization of contacts and associated custom fields, synchronization of conversations, export of contact lists & more). We aim for product-led growth, user experience and product stability are therefore very important.
🏆 Our team values
Positivity over everything
No ego - humility is the key to good communication
We take ownership and initiative, and cooperation is the magic word
"Hacker" mentality - Trial and error, always test and adapt, be curious
Proactively seek out ways to grow
We do not do boring tasks, variety creates balance
🔥Job Description / Mission
In collaboration with us, your mission will be to boost lead generation, outbound automation and customer acquisition, with the objective of revenue growth. You will need to grow the user and prospect base by all possible means.
Main Missions:
Get the opportunity to show autonomy and proactivity in organizing your job and in finding the most effective way to generate leads and quickly identify growth levers

Develop a deep understanding of Leadjet's target buyer and ideal customer profile, and build smart strategies and campaigns to engage this audience effectively

Build and Monitor new acquisition funnel(s) end-to-end, with a clear methodology for tracking performance at each funnel stage and razor-sharp focus on conversion rates

Set up a marketing automation machine by interconnecting our different tools and creating several acquisition workflows and sequences

Plan, develop, test and deploy targeted campaigns across multiple channels to drive new customer acquisition (Google Ads, Facebook, LinkedIn, Referrals, Blog etc.)

Ensure continuous improvement of our various tools, workflows and sequences: you will be free to constantly test new growth levers
💼 Logistics
Full-remote / Half remote / Full office in Station F possible
Full-time (CDI)
💸 Salary
Remuneration according to profile. We are an early-stage startup but still commit to pay our contractors and employees appropriately.
Equity shares are open for the first 10 employees of which you would be a part of.
👀 Interested?
Get in touch with us!
Romain: david.chevalier@leadjet.io
Laura: laura.patricia@leadjet.io
Curious but not currently available?
We're not in a rush and planning for the long term. We will take the time needed to find a good fit for our team.
We strongly incite you to contact us even for just discussing the project informally!
Preferred Experience
Whom and what capabilities are we looking for ?
👤Profile:
You take initiative and you're a fast learner

Growth mindset with a test and learn approach to deliver strong results and fast insights

A good level of English is required, French is a plus

You have completed Bac + 4 / + 5 in business school or engineering school

You have a 3y+ experience in Sales, Marketing, No code & Growth Hacking / LeadGen and a strong appetite for technical subjects and process automation & tracking tools

You hold yourself accountable to build your strategy, execute the plan, report on performance and share learnings

B2B, tech or SaaS experience preferred but not essential
💻Capabilities:
Growth: leading strategy and execution for the entire B2B client lifecycle, from lead generation to renewal

Lead Generation: providing guidance and support on pipeline acquisition strategy and execution

Acquisition: managing an user acquisition budget to hit KPI targets and achieve user and revenue growth

Data: overseeing all reporting and analytics related to user acquisition, sales & marketing and developing insights and recommendations on improving operational issues

Marketing ops: designing and improving processes, and technologies, to enable marketing & sales to operate efficiently and to scale with quality and consistency

Stack: fully own all marketing automation, CRM, and related go-to-market tools

Bonus: experience in Web Development | No code
✨What we offer:
Not just a great full-time position in a start-up that has already earned its stripes and is now scaling up to the next phase, but also an excellent accelerator of your professional growth. Hang on, your new role will be a bit of a rollercoaster ride, but it'll be the ride of your life!

A team that values diversity where your voice will be heard.

A cool office in a dynamic co-working space at Station F

The opportunity to work for a fast growing SaaS company
Recruitment Process
Informal exchange with David (Co-Founder & CEO) for 30 minutes. A simple exercice will be given for you to complete at home (completion time: ~ 1 hours)
Skills interview with David and Laura (40 minutes).
Debrief on the exercice
Discussion around 2 major growth hacks
Additional Information
Contract Type: Full-Time
Start Date: 01 October 2021
Location: Paris, France (75013)
Education Level: Master's Degree
Experience: > 3 years
Possible full remote