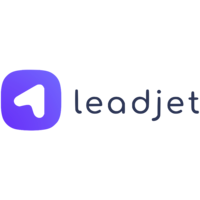 Senior Back-end or Full-stack Go / JavaScript developer
Paris
Freelance
Start Date: 01 August 2021
About
Leadjet is a Paris-based B2B SaaS start-up, supporting and empowering sales representatives in their daily prospecting and relationship work.
Job Description
🚀 Leadjet
Leadjet was launched a little over a year ago by 2 co-founders from X-HEC (1 engineer/business + 1 finance/business). The product was almost entirely developed by Romain, CTO & Co-Founder. As we received a lot of positive feedback and were able to market the product effectively, Leadjet got sufficient growth and traction to be able to advance without having to raise funds. Since its product launch (Q3 2020), Leadjet serves over 400 companies as clients (i.a. OpenClassrooms, Ubble, Batch, ShipUp, or Comet) and partners with major CRM companies such as Salesforce and HubSpot.
The team is currently composed of 10 people (4 tech, 6 marketing) working mostly remotely from several places in France and around the world (Egypt, Canada, Finland, Paris & Lyon).
The tech team is voluntarily kept small in order to move forward and iterate effectively.
🏗 The product
Leadjet lets sales professionals live in the apps they use daily (first and foremost LinkedIn), while it automatically captures all their relationship activity and stores it in their CRM (Customer Relationship Management) software.
Concretely, it takes the form of a Google Chrome extension modifying the LinkedIn interface by adding extra features (synchronization of contacts and associated custom fields, synchronization of conversations, export of contact lists & more). We aim for product-led growth, user experience and product stability are therefore very important.
🎧 Environment
We are aware that an efficient software developer needs a lot of focus and should be able to advance on dedicated tasks without constant interruptions. We are committed to creating a work environment where people producing code are able to do it under the best possible conditions.
Focusing since the beginning on product stability, we are able to move forward very effectively as we add even more functionalities.
For every feature, we take the necessary development time so that once it is completed, we don't have to get back to it anymore, or only for small optimizations. We are currently achieving this and our goal is to keep this up while growing the team!
🧾 Logistics
Full-remote / Half remote possible
Part-time possible
In terms of contract what would suit us best at first would be freelancing but we are open to other possibilities
💸 Salary
Remuneration according to profile. We are an early-stage startup but still commit to pay our contractors and employees appropriately.
Equity shares are open for the first 10 employees of which you would be a part of.
👀 Interested?
Get in touch with us!
Romain: romain.ginestou@leadjet.io
Pierre: pierre.portejoie@leadjet.io
Curious but not currently available?
We're not in a rush and planning for the long term. We will take the time needed to find a good fit for our team.
We strongly incite you to contact us even for just discussing the project informally!
Preferred Experience
We are looking for a back-end / fullstack software engineer to grow the dev team as we strive to add new functionnalities and improve stability even more as our userbase is constantly growing. Here are some key-points in which the ideal candidate should identity with :
You have an MsC in Software engineering of equivalent
Ideally 5 years of coding experience
You are able to implement new features from simple and clear specifications while making sure to keep the logic of the current code
You want to make clean code that, once in production will still potentially run for 50 years
You are aware of technical debt and you know how to manage it
You know JavaScript
You are familiar with the Go language or you know C / C++ and learning a new languages doesn't scare you
💻 Technologies
Typescript / Sass on the extension side
Go / MongoDB / Redis on the server-side
Vue.js on the user dashboard side
✨ Bonus
You want to solve business-oriented issues with code and see the direct impact of your implementations on business, sales and user experience
You have experience with developing browser extensions
You have notions of infrastructure, in particular with AWS
Recruitment Process
Informal exchange with Romain (Co-Founder & CTO) for 30 minutes. A simple coding exercice will be given for you to complete at home (completion time: ~ 1 hours)
Technical interview with Romain and Pierre (40 minutes).
Debrief on the test
Discussion around 2 major technical issues
Additional Information
Contract Type: Freelance
Start Date: 01 August 2021
Location: Paris, France (75013)
Education Level: Master's Degree
Experience: > 3 years
Possible full remote